Recently, I started working on an e-decorating project for a client in Boston.  She and her family live in a beautiful late 1800s Victorian home. They have been painstakingly bringing the old girl back to her old glory one project at a time. You can read about their home here.
Since I have a soft spot in my heart for older homes, I was thrilled to hear from Jessie that she would like some decorating help, starting with their living/family room.  So I just wanted to share what we've come up with for her room.  Let me tell ya..it wasn't easy! The room is definitely not a modern room…lots of doors, weird walls and not a solid wall to boot. But its cozy and unique and I think its going to look WONDERFUL! Here is the fabric that started the whole look…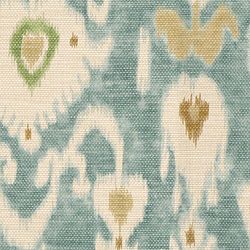 Laura Ashley for Kravet Tilbury-Lapis
You may have seen it in the first issue of
Lonny
featured in the dining room of Kate Simpson (from dearly departed Domino).
via www.aestheticoiseau.com
Well hopefully once Jessie's room is complete..or near completion, she will share images! I can't wait! Here is what we came up with:
I still need to fine tune some things like art and more lighting, but its got a great feel!  Happy Friday to you!