I've been rather MIA lately I know! The little girl and I fought quite a nasty cold for THREE WEEKS in June that really knocked us both out for a while. I haven't had a cold like that in ages. No fun. Then as soon as I got better we went out of town for a little whitewater river rafting and RV'ing with some dear friends and old neighbors of ours. The last two weeks the almost 3 year old and I have been staying quite busy doing….
This.
Mother's Beach-Belmont Shore
and this.
Disneyland with one of Ellie's bestest friends Sierra!
lots of this…
Ice Cream…cause mommy likes it a lot too.
this for a while…
Baby Ballet
this
Kidnastics
and I did this.
Dinner at Taco Surf Sunset Beach with some old friends!
Summer has started off pretty darn good! My ultimate favorite holiday is this weekend…4th of July…and the week before and after are always jammed pack full of fun events and outings. It's also my birthday (the 6th) as well as my little ones'. Yes, we have the same birthday! We're having a big bash to celebrate America's birthday and here is a sneak of what it will look and taste like!
clockwise from top right corner: 1)candles in mason jars  2)sparklers for the kiddos 3)bbq chicken 4)watermelon feta arugala salad-Ina Garten  5)white hydrangeas 6)plaid pendleton blankets to watch fireworks on  7)flag cake-more Ina!  8)nautical napkins, cups and plates from Ikea  9)lemonade in drink dispensers from Pottery Barn  10)Red White and Blue Potato salad-Cooking Light  11)lots of flag swags around the house
Our party was a success! It's January 2nd and I'm still not feeling 100% back to normal from our New Years Eve fun. I'm not exactly the smartest cookie for deciding to stay up until 4am cleaning the entire party up before daybreak. Our little one was up by 8am, so I got four hours sleep and at my current age that does not go over well with my body. Here are some pics from the shindig. Hopefully friends will send me more so I can show off more of the food and decorations!
Me and my "Mad Man" as our little one looks on.
Oh how life has changed. We have a 2 1/2 year old running around, so of course New Years Eve hasn't been the same sort of celebration the last few years. We did splurge on a VERY expensive babysitter last year and went to a nice dinner with friends. But the crazy holiday service we received at dinner and the $100+ bill for the sitter left a sour taste in our mouths.
So this year we figured most of our friends are in the same boat as us. We all have kids under 4 years of age who will go to bed at a reasonable hour and not want or need to stay up until midnight. Do you see pack n' plays entering into this picture?? Well we're going to do up serious early 60s style and do a Mad Men themed NYE party! My mom told me back in the 60s that kids were just put to bed early and the party still happened downstairs with the adults. That was just what I needed to hear! So, now I'm planning on swinging partay!
We threw this shindig a little last minute and invited our closest friends to come celebrate with us. We'll be having a smallish party of 20 people, but some of the best 20 people we know and love for sure! On the nibble menu is shrimp cocktail, sweet and sour meatballs, tiny sausages with cheese fondue, cheeseball and crackers, spinach artichoke dip, deviled eggs, a fruit charlotte, jello salad and assorted cookies and belgian chocolates. Do you see the 60s theme I'm going for? And of course I bought lots of odd stuff to garnish with…LOTS of curly parsley, canned pimentos, and sliced olives. This is going to be fun!
Don't those dishes looking delicious? YUCK!!! Don't worry I'm not going that extreme. I do want people to actually eat the food I'm preparing.
And to go with the theme we also have to do the full bar thing. So I have all the makings for some old time cocktails…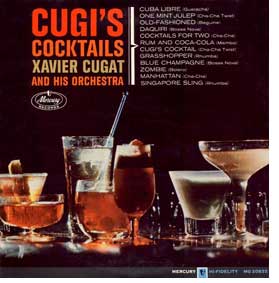 As far as clothing, we've asked that people come dressed to impress in cocktail dresses, suits, ties, pearls…the works! I'm planning on wearing a little gold number that is actually a Tracy Reese dress I found a few years ago for a serious discount. And the hubby is planning on going more casual in a plaid pant, straw fedora look. Should be fun!
I'll definitely post pics after I have completely healed from over partying this weekend or at least by Monday. Have a terrific New Years Eve….and stay safe while you're having fun!!! HAPPY 2010!