Oh how life has changed. We have a 2 1/2 year old running around, so of course New Years Eve hasn't been the same sort of celebration the last few years. We did splurge on a VERY expensive babysitter last year and went to a nice dinner with friends. But the crazy holiday service we received at dinner and the $100+ bill for the sitter left a sour taste in our mouths.
So this year we figured most of our friends are in the same boat as us. We all have kids under 4 years of age who will go to bed at a reasonable hour and not want or need to stay up until midnight. Do you see pack n' plays entering into this picture?? Well we're going to do up serious early 60s style and do a Mad Men themed NYE party! My mom told me back in the 60s that kids were just put to bed early and the party still happened downstairs with the adults. That was just what I needed to hear! So, now I'm planning on swinging partay!
We threw this shindig a little last minute and invited our closest friends to come celebrate with us. We'll be having a smallish party of 20 people, but some of the best 20 people we know and love for sure! On the nibble menu is shrimp cocktail, sweet and sour meatballs, tiny sausages with cheese fondue, cheeseball and crackers, spinach artichoke dip, deviled eggs, a fruit charlotte, jello salad and assorted cookies and belgian chocolates. Do you see the 60s theme I'm going for? And of course I bought lots of odd stuff to garnish with…LOTS of curly parsley, canned pimentos, and sliced olives. This is going to be fun!
Don't those dishes looking delicious? YUCK!!! Don't worry I'm not going that extreme. I do want people to actually eat the food I'm preparing.
And to go with the theme we also have to do the full bar thing. So I have all the makings for some old time cocktails…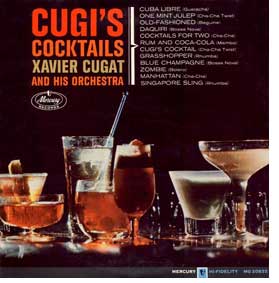 As far as clothing, we've asked that people come dressed to impress in cocktail dresses, suits, ties, pearls…the works! I'm planning on wearing a little gold number that is actually a Tracy Reese dress I found a few years ago for a serious discount. And the hubby is planning on going more casual in a plaid pant, straw fedora look. Should be fun!
I'll definitely post pics after I have completely healed from over partying this weekend or at least by Monday. Have a terrific New Years Eve….and stay safe while you're having fun!!! HAPPY 2010!
I've been hoarding far too many Christmas decorations for far too many years now. I started buying a little here a little there since I was about 18 years old. And it wasn't because I actually had the ROOM for all those garlands, wreaths, nutcrackers, etc! Oh no, I would just sort of rotate things around every year, so that things would be used and I wouldn't feel completely guilty about buying far too much to decorate with.
Well I finally have a house where I can showcase all of my Christmas finds! And of course I'm already looking around at other things on sale that will be used next year. Since I'm considering taking it all down before New Years Eve, so that I not only don't get stuck cleaning up after the party we are going to have, but I don't have to also put up all the decorations. No bueno!
But everything still looks so pretty and sparkly and I thought I would share some pictures of our holiday home.
Photo by Elizabeth Pham
This was our first Christmas in our new home! Last year we were all crammed into a tiny nook of a dining room trying to do Christmas Eve dinner, but this year we could spread out! Not only can we now fit 10 people in our dining room, but I don't have to yell at everyone to get out of my kitchen so I have room to cook and move.
Here's how I did it:
1) First I sauteed finely chopped button mushrooms, garlic, thyme and shallots. I made this a few days ahead, so I was freaked out the day of trying to do it all at once. I stuck it in the fridge for a few days.
2) The day before Christmas Eve I bought a 3 1/2 lb. beef tenderloin from Costco. NO….it was not cheap! It ran me about $60-65 or so. But this was a special occasion, so I wanted to go all out.
3) I tied up the beef in four places to keep the beef in a cylindrical shape while cooking it. I rubbed extra virgin olive oil all over it and liberally salt and peppered the surface. Then I popped it in a hot pan with olive oil and seared the whole outside. Then I set it aside and let it cool a bit.
4) Then you lay out a large piece of plastic wrap. You have to make sure the wrap is big enough to roll the beef in and cover completely. On this piece of plastic wrap you shingle thin slices of prosciutto…about 6 slices on top and 6 slices on the bottom…in a square shape. Then you take your sauteed mushroom mixture that you've made ahead, and spread a thin layer of it over the prosciutto. Once you've done that you sprinkle kosher salt, cracked pepper, and thyme leaves over the surface.
5) Once your meat has cooled, you cut off the twine and smear the entire surface with a good dijon mustard.
6)Next, you take your seared tenderloin, plop it down in the center of your mushroom'ed prosciutto and using the plastic wrap, roll it up tightly tucking the ends of the prosciutto as you go. I twisted the ends to secure it and from this point you still the beef in the fridge for at least 30 minutes so it will hold it's shape. I left the beef in a whole day before the big event. It came out just fine.
7) The day of I rolled out one pound of thawed puff pastry on a floured surface. You then unwrap the plastic from the beef and plop that sucker right down in the middle of your pastry. You need to make sure you roll the dough out wide and long enough so that it will wrap around your hunk of meat. Then you roll it up in the dough, tuck under the ends, using egg wash to secure and put the ugly seam side down on a baking sheet. Then you egg wash the entire surface, sprinkle with coarse sea salt and make a few small slits to let out steam during cooking. And then you stick it in a 425 degree oven for about 40-45 minutes or until the internal temp reaches 125 degrees.
8) Once it's reached the 125 degree mark, take it out set it on a platter and cover it with foil. Now don't touch! Let it rest for 10-15 minutes..the juices will make their way back into the beef and the beef will continue to cook at this point.
Hope you knocked it out the park this holiday season too!